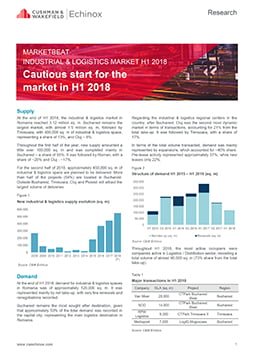 The industrial & logistics stock in Romania reached 3.12 million sq. m at the end of H1 2018;
Bucharest remains the largest market, representing almost half of the total stock;
Throughout the first half of the year, new supply amounted a little over 100.000 sq. m and was completed mainly in Bucharest;
For the second half of the year, new supply is expected to be consistent;
Demand was represented mainly by net take-up, with very few renewals and renegotiations recorded;
The most active occupiers were companies active in Logistics / Distribution sector;
In terms of occupancy costs for industrial & logistics spaces, Romania is one of the most competitive markets in Europe.